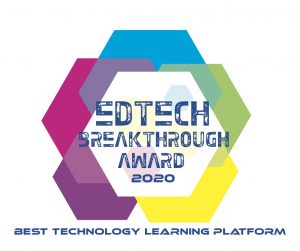 Vocareum Wins "Best Technology Learning Platform" Award in 2020 EdTech Breakthrough Awards Program
Prestigious Awards Program Recognizes Outstanding Educational Technology Products and Companies
SAN JOSE, Calif.. – June 24, 2020 – Vocareum, an education technology software company, today announced that EdTech Breakthrough, a leading market intelligence organization that recognizes the top companies and solutions in the global educational technology market, has selected Vocareum as the winner of its "Best Technology Learning Platform" award in the second annual EdTech Breakthrough Awards program.
The Vocareum Cloud Lab Platform is used by leading Universities to educate the next generation of data scientists and analysts, delivering cloud-related learning opportunities in the classroom and preparing their learners for opportunities in cloud computing.
Vocareum's cloud-based lab environment provides instructors with a user-friendly and pedagogically effective workbench for setting up and grading problems in development environments, and in multiple languages. Instructors can set up auto-graded problems to provide students with immediate feedback, manually grade student assignments, and provide in-line comments on code. Additionally, in collaboration with Amazon Web Services (AWS), Vocareum delivers cloud-related labs to higher-education institutions, educators and students via AWS Educate Classrooms
"Vocareum's mission is to provide the experience of full-fledged software labs directly to the web browsers of learners worldwide," said Sanjay Srivastava, CEO of Vocareum. "Vocareum has positively impacted the online learning experience by offering learners, all over the world, a more enriched, rigorous, and personalized environment with online labs and code graders. This 2020 EdTech Breakthrough Award is a strong validation of the success and innovation that Vocareum brings to the tables to today's most forward-thinking Universities and learners worldwide."
The mission of the EdTech Breakthrough Awards is to honor excellence and recognize the innovation, hard work, and success in a range of educational technology categories, including Student Engagement, School Administration, Adaptive Learning, STEM Education, e-Learning, Career Preparation and many more. This year's program attracted more than 1,750 nominations from over 15 different countries throughout the world. 
"In a global digital economy, the role of cloud computing is growing exponentially, leading to greater demand for college graduates with a strong background in cloud computing and analytics," said James Johnson, managing director, EdTech Breakthrough. "Vocareum is providing the resources necessary for students around the world to develop the skills necessary to pursue a career in cloud computing. This approach uplevels EdTech in a significant way and we're proud to present Vocareum with our 'Best Technology Learning Platform' award and look forward to more innovation in the coming year."
Through the partnership with AWS Educate Classrooms, educators can set up their own AWS Educate virtual teaching space, request AWS credits, invite students, monitor usage, and view activity. With capabilities like grading automation, plagiarism detection, and learning analytics that are missing in horizontal LMS offerings, Vocareum significantly improves assessment efficiency, student engagement, collaboration strategies and learning analytics. By moving student work to the cloud and leveraging cloud computing resources, Vocareum makes it possible to deliver cost-effective and current computing labs to partners at a fraction of the cost of traditional campus IT computing solutions. 
About Vocareum
Vocareum offers a cloud lab platform built specifically for training, research, and assessment. The overall architecture combines cost-effective compute, powerful assessment capability, and integration into various learning and research workflows.  Trusted by top tier universities, online MOOCs, and industry partners, our platform capabilities include resource management, collaboration, grading automation, plagiarism detection, and peer reviews for improved course and project management, assessment efficiency, and user engagement. To learn more about Vocareum, please visit www.vocareum.com.
About EdTech Breakthrough
Part of Tech Breakthrough, a leading market intelligence and recognition platform for global technology innovation and leadership, the EdTech Breakthrough Awards program is devoted to honoring excellence in educational technology products, companies, and people. The EdTech Breakthrough Awards provide a platform for public recognition around the achievements of breakthrough educational technology in categories including e-learning, student engagement, school administration, career preparation, language learning, STEM, and more. For more information, visit EdTechBreakthrough.com.