EdTech startups are making education more affordable and accessible to students at scale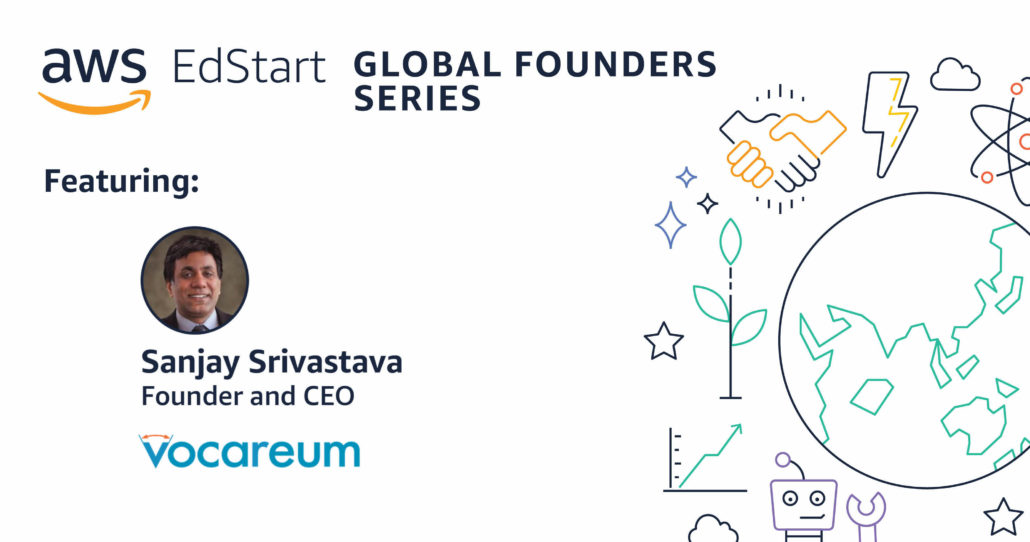 AWS EdStart Global Founders: Sanjay Srivastava of Vocareum
By Rachel Van Dinter | 9 NOV 2020
November 9, 2020,/AWS Amazon/ — Sanjay Srivastava founded Vocareum because he wanted to help close the global digital skills gap through cloud-based learning labs and performance-based assessments. Srivastava believes that cloud computing is critical to helping institutions respond to the growing need for proficiency in digital literacy. Vocareum is a cloud lab platform built for learning, research, and assessment in computation courses, making it possible to affordably deliver high-end computing infrastructures to learners 24/7.
Vocareum has helped offer equitable access to high-quality education by providing Massive Open Online Courses (MOOCs) for their broad set of labs, rich assessment capabilities, and integrations to support a range of use cases including residential classes, bootcamps, upskilling platforms, and performance-based assessments. Srivastava recognized that incorporating a high-quality hands-on component was critical to students as a part of the educational journey. Vocareum does this through collaborations with edX, AWS Educate, Simplilearn, University of Washington, Purdue University, Cornell University, and more.
Vocareum is cloud-native and currently uses a variety of AWS services for their infrastructure such as AWS Organizations to centrally manage their environment, AWS Auto Scaling to optimize performance and cost, and AWS Lambda to build and scale faster with serverless architecture.
"A highly reliable and globally available infrastructure has been critical to our success as we have scaled both geographically and by number of learners. Numerous built-in services provided by AWS have meant that we have been very capital efficient and have successfully bootstrapped our operations to profitability," said Sanjay Srivastava.
In addition to being all-in on AWS, Vocareum is an AWS EdStart Member, where they have had the opportunity to attend events, network with industry leaders, and work side-by-side with AWS business and technical teams. As a result of their engagement with AWS EdStart, Vocareum learned about and incorporated AWS Cloud education programs like AWS Educate into their hands-on cloud labs.
"The biggest value that AWS EdStart provided was the opportunity to meet and network with other entrepreneurs," said Sanjay. "Additionally, the technical support provided has been extremely helpful. AWS helped us scale our operations to 700,000 learners globally on a very tight bootstrapped budget."
Next on the horizon, Vocareum plans to deploy services such as Amazon SageMaker and AWS IoT Greengrass to assist students with their machine learning and IoT skills within labs.
AWS EdStart, an educational technology (EdTech) startup accelerator, is designed to help entrepreneurs build the next generation of online learning, analytics, and campus management solutions in the AWS Cloud. Learn more about AWS EdStart and read other stories about AWS EdStart founders.